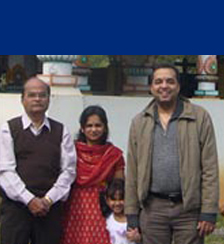 Too Personal
Which is unsafe, dangerous but out of the circle of harmfulness.
In my personal life Tendulkar's place is supreme. I have spent some 17 years with Tendulkar and during those years he taught me life's up's and downs. He always said, 'if you put your soul and genes in writing, if you are a writer then your friendship with politicians will have no meaning when it comes to vested interest as they will always clash.
You must always remember this. Either you will become a slave or you will have to stop writing.' The thought deepened my understanding and created a burning desire in me. Day by day it intensified. My family consisting of my wife Supriya, my daughter Priyanka, my father, my late mother made it possible personally. They are a part of my family. But the people of Maharashtra, the Marathi manoos are also a part of my 'too' personal life.