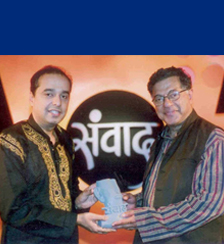 Samvad
A pleasant accident in my life....
I have completed more than 4000 episodes of Samvad on ETV Marathi, followed by hundred more, in which mega star Amitabh Bachchan to political leaders like Sharad Pawar, Raj Thackeray, Uddhav Thackeray and writer Shyam Manohar to Kamal Desai, Narendra jadhav, Uttam Kambli were featured. VIP's from all over Maharashtra, graced 'Sanvad' with their presence.
Time and again, I have been asked questions related to 'Making of Sanvad, the thought behind 'Sanvad', Special moments, benefit from 'Sanvad' at large, and uniqueness of the program. Recollecting the initial days before Sanvad happened, I would like to mention one fact that the program was not conceptualized directly as 'Sanvad' or thought about in those lines.
The celebrities, that I am talking about, have very little to contribute to society. Real celebrities are those, who work diligently, excel in their field, contribute towards the betterment of the society but find no mention on page three or flash in to limelight. People like Himmatrao Baviskar, invented vaccine over Scorpio bite, people who relentlessly worked for empowerment of women, adoption and orphans or work for homeless women, go unnoticed, unsung. These people, whom I am talking about, do not indulge in rioting on roads, neither are they part of any scandal or scams neither they speak the language of weapons. They are of no help in generating fraud ration cards like a Corporator would do. If a Corporator and a nuclear scientist are neighbors, the Corporator would be the most sought after person, while the scientist would be royally ignored.
The thought of 'Sanvad' germinated in my mind, on the onset of one incidence. A world renowned gynecologist, Dr. Mhatre was awarded the Man World award in 2005. He stays in Dadar, Mumbai but his identity is restricted to the fact that, he stays below Anup Jalota's apartment.
After the first successful Ovary Transplant in India, the first question BBC asked him was, "India must be celebrating your success, doctor, isn't it? It's the first for research on Ovary Transplant and a matter of pride for India in field of medicine! It was the West, which was reputed for such breakthrough but you brought this honor to India". Dr. Mhatre replied in general, too embarrassed to reveal the truth, no one was bothered about his achievement back home and neither took any note of it, not even the local 'Corporator', Minister, MP or Prime-Minister and President for that matter. In fact, they tried to create obstacles in his path.
I, communicated with the channel but they turned me away, saying there is no TRP for such programs. I fought and argued. Celebrities, like Amitabh Bachchan and Bal Thackeray, were highest TRP riders but what about these common people, who are contributing in an uncommon way! I was able to drive this point through to P.K Manavi and Mr. Narkar and 'Sanvad' rolled off.
For the first episode of 'Sanvad,' I interviewed IAS officer Avinash Dharmadhikari but Kumar Ketkar's interview was shown instead as first. I took the responsibility of researching for the show, on my shoulders. People, today ask me how you made the show a success and here I, would like to point out success is not achieved in a day!
Lot of hard work, extensive research, networking throughout the interiors of Maharashtra has gone in to the success that people see me with today. In the past I have done research for Priya Tendulkar's political shows 'Aap ki Adalat', 'Jimmedar Kaun?' Followed by research for many political shows on various channels. It was a tough journey uphill! This was the beginning of 'Sanvad' and since then, there was no looking back.
There were many distinctive moments in 'Sanvad' and to name a few, would be doing injustice to the rest. It would take a life time to talk about it and website is not the medium but still I will mention a few. My interviews with Girish Karnad, Vijay Tendulkar, Kamal Desai, Shyam Manohar, Vasudev Kamat, Jyotsna Kadam who is an artist, Prakash Amte, Dr. Abhay Bang and Rani Bang, Anna Hazare, R.R Patil who is considered an epitome of credibility, luminaries who have contributed in the field of art, literature, science were all interviewed in 'Sanvad'.
Interview of Shri. Vijay Tendulkar and Shri. Sharad Joshi are the milestones of 'Sanvad' and can be seen on youtube. They are rare, as both refrained from speaking in public before. Sharad Joshi came all the way from Delhi. It was only their love for me that they agreed for an interview.
Girish Karnad spoke in Marathi and I suppose it was his first. Another exclusive interview was with Prakash Amte who is working on Lokbiradri project. We shot the interview in the river sitting on the point where Nag River and two other rivers conjoin and flow to form one big river. Sanvad featured nondescript to well known personality and every episode was memorable and unique in its own way.
When the program touched the figure of 4600 episodes, it was called remarkable. But I think it is not the figure but the quality that matters. I never compromised on quality and never will. When 'Sanvad' went off air, a new program was conceptualized 'Sanvad Raju Parulekaranshi' which saw over 100-150 episodes. A brief stunt but that too was successful.
The new management, at the channel, took it off air. I enjoyed every moment of 'Sanvad' and took it to the optimum. I am grateful to the management for discontinuing such a successful show as I believe when a program is at its peak and in demand it should be stopped so that it is missed by people. If it had gone on and on viewers interest would have lessened after some time.